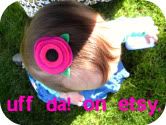 One of my most favorite mommy bloggers has finally opened her Etsy shop! If you are looking for adorable, unique, and reasonably priced items for a little girl then please, click the picture above. Can you seriously beat a super cute (handmade!) summer dress for only $22.00?!

Emily also makes hair clips and fun bibs (some for little boys too!)

Look! Look!



Now seriously, go help a mama out and buy something awesome for your little sweetie!